President of Indonesia Inaugurates Southeast Asia's Largest Floating Solar Plant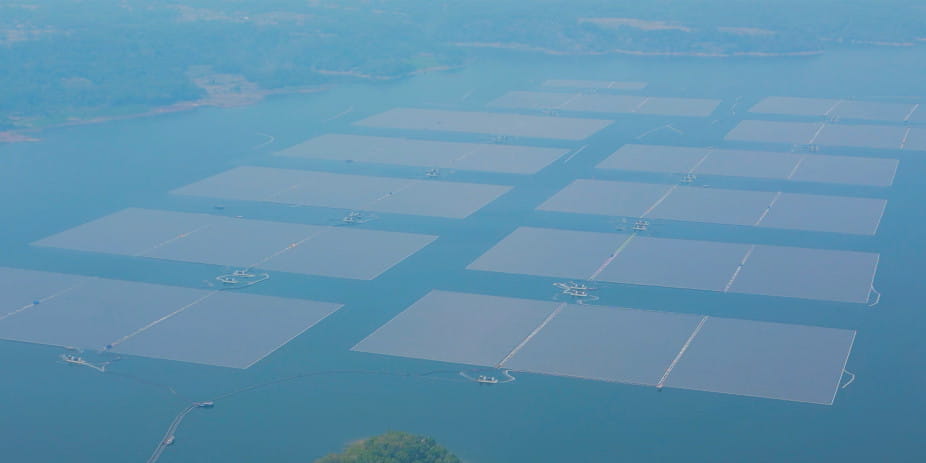 145MW (192MWp) Cirata plant opening witnessed by HE Joko Widodo, President of the Republic of Indonesia and will power 50,000 homes and offset 214,000 tons of carbon dioxide emissions

Cirata is Masdar's first floating solar PV project and largest in Southeast Asia, developed with PLN Group

UAE's Masdar and Indonesia's PLN Nusantara Power (PLN NP) have agreed plans for Phase II to develop up to 500MW additional capacity at Cirata
Java; November 9, 2023: Abu Dhabi Future Energy Company PJSC – Masdar, the UAE's clean energy powerhouse, and Indonesia's state-owned utility company, PLN have inaugurated the 145 megawatt (MWac) (192MWp). Cirata floating solar plant in Indonesia, the largest in the Southeast Asia region.
The inauguration was held in the presence of: HE Joko Widodo, President of the Republic of Indonesia; HE Arifin Tasrif, Indonesia's Minister of Energy and Mineral Resources; HE Dr Thani Al Zeyoudi, UAE Minister of State for Foreign Trade; HE Erick Thohir, Indonesia's Minister of State Owned Enterprises; Mohamed Jameel Al Ramahi Chief Executive Officer of Masdar, and Darmawan Prasodjo, Chief Executive Officer of PLN Group.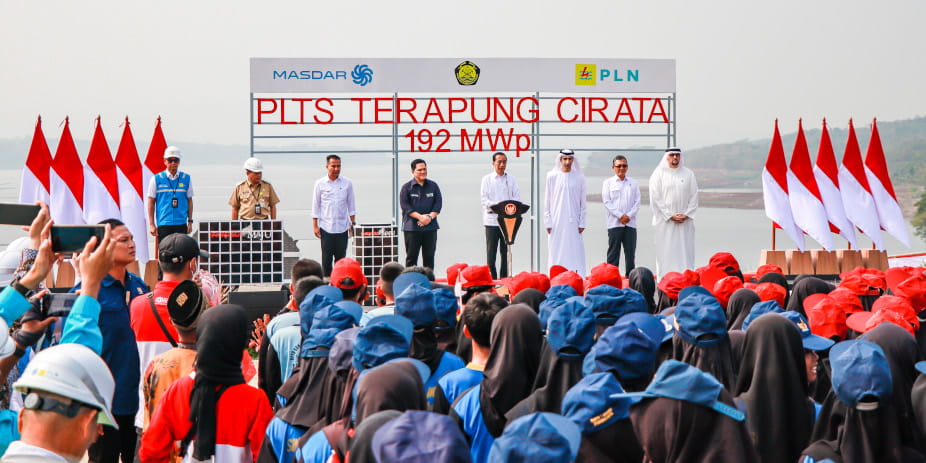 Cirata is Masdar's first floating PV project and its first renewable energy project in the Southeast Asian market. Built on a 250-hectare plot of the Cirata Reservoir, in the West Java province, it will power 50,000 homes and offset 214,000 tons of carbon dioxide emissions.
Masdar and PLN NP recently signed an MOU to develop Phase II of Cirata with up to 500MW additional capacity, following a regulatory development from the Ministry of Public Works and Housing in Indonesia that that has increased the portion of water that can be covered, for renewable energy uses, to a maximum of 20 percent.
Dr Sultan Al Jaber, UAE Minister of Industry and Advanced Technology, COP28 President-Designate and Masdar Chairman, said:
The inauguration of this floating solar PV plant at Cirata is a testament to Masdar's pioneering ethos, our innovative spirit and power of partnership. It is symbolic of the ambition of HE Joko Widodo President of Indonesia, his Government, PLN Group and Masdar, that our first project in the country should also be the largest floating solar plant in the region. With just a few days to go before COP28 in the UAE, it is exciting to see tangible progress being made on further ramping up of renewables capacity as we collectively seek to deliver unified action on climate change that will work for all parts of the world.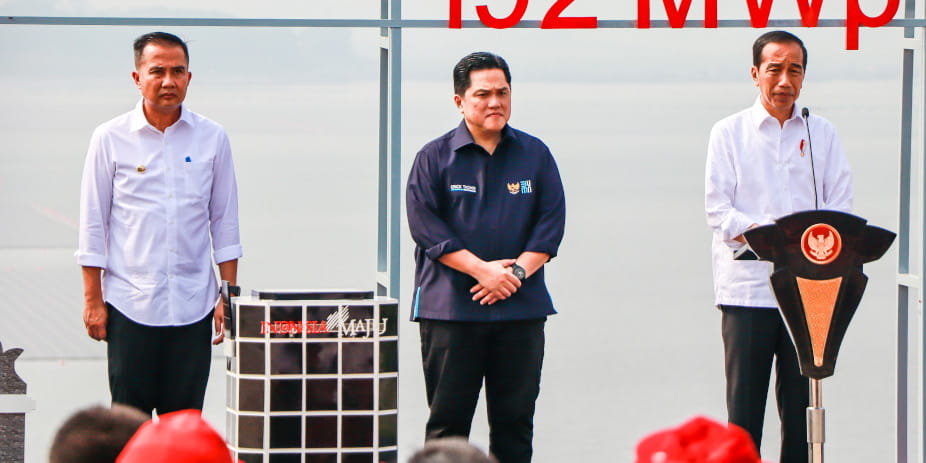 Indonesia's Minister of Energy and Mineral Resources, HE Arifin Tasrif, commented:
The Cirata Floating PV is the result of collaboration between two countries, namely Indonesia and the United Arab Emirates, which involves PLN and Masdar. The capacity of the Cirata Floating PLTS could be greater, with a maximum total potential reaching around 1.2 GW peak, if it utilized 20% of the total area of the Cirata reservoir. With the operation of the Cirata Floating PV, we hope it will increase investor confidence and encourage technological innovation as a solution to limited land in developing solar energy, where Indonesia has enormous floating PV potential.
UAE Minister of State for Foreign Trade, HE Dr Thani Al Zeyoudi, said:
We congratulate the President and the people of Indonesia on this achievement, a significant milestone in the nation's ambitious goal of reaching net zero by 2060. The Cirata project, a landmark joint-venture between UAE clean-energy pioneer Masdar and Indonesia's PLN NP, reflects the strength of our nations' partnership and our long history of bilateral trade and innovation. We look forward to further collaborations in the future and to supporting Indonesia's clean energy transition.
Mohamed Jameel Al Ramahi, Chief Executive Officer of Masdar said:
The inauguration of Cirata demonstrates Masdar's commitment to developing cutting-edge technologies to provide world-class solutions. We are delighted that the development of our first floating solar plant with PLN Group is fully operational and supporting Indonesia's renewable energy objectives. In October 2023, Masdar and PLN Group agreed to triple the existing capacity of this already record-breaking project, supporting Indonesia's decarbonization and net-zero ambitions.
Darmawan Prasodjo, Chief Executive Officer of PLN Group, said: "The Cirata Floating PLTS is a showcase for global cooperation to realize emissions reductions in accelerating the energy transition towards Net Zero Emissions (NZE) by 2060.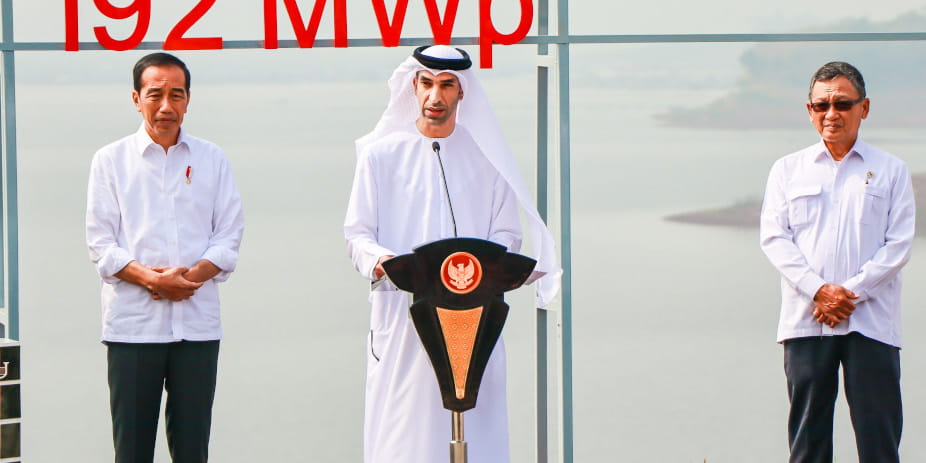 Indonesia is a key strategic market in Southeast Asia for Masdar where the UAE's clean energy powerhouse has an expanding portfolio of interests. In addition to Cirata, Masdar entered the geothermal energy sector through a strategic investment in Pertamina Geothermal Energy (PGE) in February 2023. Masdar also opened an office in Jakarta in 2021 to further strengthen links with key players within the region.
Indonesia has plans to increase its renewable energy mix and pledged to reach net-zero emissions by 2060 or sooner. The Southeast Asian nation has committed to a 29% reduction in greenhouse gas (GHG) emissions by 2030. Ahead of COP28, to be hosted in the UAE later this year, the expansion agreement demonstrates the UAE's commitment to supporting countries around the world with their decarbonization plans for a cleaner, greener future. Scaling up renewables could save Indonesia, the largest energy user in the Association of Southeast Asian Nations (ASEAN) region, as much as US$ 51.7 billion per year when the impacts on air pollution and climate change are included, according to the International Renewable Energy Agency (IRENA).
Floating solar plants are attractive to countries like Indonesia with expanding populations and scarce land resources. They provide higher solar panel efficiency and productivity due to the close proximity of the panels to the water surface that helps cool them. Floating panels also reduce evaporation, saving fresh water for drinking and irrigation purposes.
Established in 2006, Masdar is active in more than 40 countries with a total electricity generation capacity of more than 20GW. It has invested, or committed to invest, in worldwide projects with a combined value of more than US$30 billion with ambitious growth plans to reach 100GW and 1 million tonnes of green hydrogen by 2030.